The following video provides a glimpse into how a rehab center is using dance therapy to help people with dementia. It's an inspiring video that illustrates the benefits of expressive arts therapies with seniors. Read more about the benefits of making art accessible to people with dementia.   The Rhythm of Life Video Transcript Speaker 1: […]
Source: Dance Therapy For People With Dementia – Art Therapy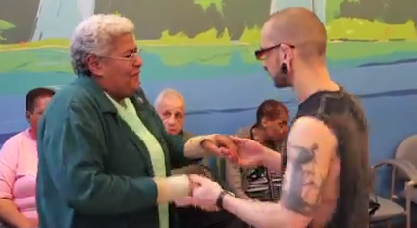 The following video provides a glimpse into how a rehab center is using dance therapy to help people with dementia. It's an inspiring video that illustrates the benefits of expressive arts therapies with seniors. Read more about the benefits of making art accessible to people with dementia.
The Rhythm of Life Video Transcript
Speaker 1: Patients at the Village Cares Rehabilitation Center in Chelsea are suffering with a variety of ailments, and don't move quite like they used to. The nurses try every trick in the book to keep their patients active, but only one remedy works every time.
(music plays)
Nathan: Sometimes it's instantly transformative. You put music on, it's almost like you see stuff being melted away, like in an instant.
Want Elvis? Yeah, baby.
Speaker 1: Nathan Hescock is a professional dancer who comes to Village Cares every Wednesday. He and other performers take time off each week to fill the dance cards of elderly and handicap patients across the city.
He started a non-profit, Rhythm Break Cares, two years ago to get the generation that grew up swinging back on their feet.
Nathan: It's inside them, still wanting to come out. You know, these are the people that grew up with ballroom dance as part of their pop culture. We do ballroom dance now, but back then, that was what everybody did.
Alex: I like going to the dance class because it helps you move.
Speaker 1: Salsa is the dance of choice for Alex [Oquendo 00:01:27].
Alex: They hold my hand, and I just shake my body.
Evelyn: They'll encourage the arms. They'll encourage the head. They'll encourage clapping. You know, you might not want to get up, but we're going to get you moving either way.
Speaker 1: And the movement has major benefits. A study by the Albert Einstein College of Medicine reveals that stimulating the brain through social dance can ward off dementia, just as physical exercise keeps the body fit.
Speaker 5: They transform from being sad or depressed or in pain to being happy. It's a transformation.
Speaker 1: Laura Brown says the tunes bring her back to the days before arthritis took its toll, when she was part of Harlem's vibrant dance scene. She might have trouble with the steps, but the rhythm never fails to move her.
Laura: When I felt that music, I was really getting into it.
Nathan: Never underestimate the power of music.
Alex: The music, that brings you good memories.
Nathan: What are the lyrics to "Que Sera, Sera"? There's no point in getting upset. Whatever will be, will be.
Sometimes they won't even remember 20 minutes later that you danced with them, and it's not that important. What this does, is it creates moments. It gives you the now. It allows you to not have to relate to anything but what you're doing at the moment, and what you're doing, you're enjoying.
Speaker 6: Give yourselves a hand. (applause) See you all next week.