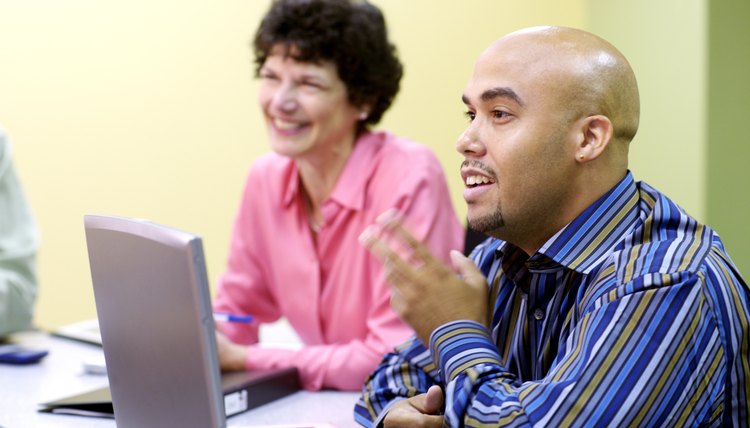 Source: How to Develop Collaboration Skills
Effective collaboration skills allow you to share your vision, get constructive input, gain cooperation and acknowledge the opinions and expertise of others. To encourage teamwork, incorporate collaborative techniques into your leadership repertoire. Learning how to build trust, share, foster belonging and win respect can help you to enable your organization to gain a competitive advantage.
Observe Experts
To develop collaboration skills, seek out a mentor who excels in this area and watch her in action. Collaborative leaders use active listening skills to grasp input fully from others. Take notes as you observe how this gets done. You may notice that this type of leader addresses negativity with empathy and understanding, deferring conflict to private meetings.
Identify Techniques
Developing collaborative expertise typically involves identifying techniques that work for you. You may want to create index cards or notes that define what a collaborative behavior, such as asking for a favor, looks like and sounds like. For example, this behavior might include making eye contact and asking if the other person has a minute to help you with a problem. Use this strategy when you want to get someone involved in work your team is doing. Refer to your index cards when you feel you need a reminder of how to include others in your work to obtain the best outcome.
Practice Cooperating
Free online seminars, such as those provided by the Society for Technical Communication, can provide you with information on how to reduce conflict and solve problems in a cooperative manner. Once you learn these concepts, practice by role-playing with a friend or family member to develop your skills in creating high-trust relationships with colleagues and customers. You can also learn how best to represent your own views and negotiate for what you want. Through effective collaborative efforts, you can build a strong personal and professional network.
Use Technology
Collaborative software tools enable teams of people working on a project in different places to work together more effectively. These applications typically enable teams to upload files, chat online and participate in virtual meetings using audio and video. These tools allow you to publish a calendar and keep track of progress towards achieving goals. With voting capacity, everyone gets to weigh in on a decision. Learning to use this type of technology helps you work in multiple settings.
---